The Hafencity Gin (translates to: harbour city gin) from Hamburg is a good neighbour. With 20457 being the zip code of the district within Hamburg which is probably the most striking development area of the last 20 years. With the new landmark and addition to the city's skyline, the Elbphilharmonie at one end, and the many railway and street bridges on the other end it is an area to visit for sure. Now with the GinGinGin shelf residing at 20459, just a ferry stop down the stream we have to review this as part of our neighbourhood gin programme!
Background
This is an agency gin. But wait before you turn away and roll your eyes. It's completely different from what you think it is. René Wolf works in the advertising industry. He is a self-employed art director and totally not what you think of when you think of the typical weirdo agency guy. Meet someone who can be passionate without being of the bragging kind. So when it came to designing the gin, choosing the paper for the labels, deciding on the print style etc. he knew what to do. But let's not mix up the order of events.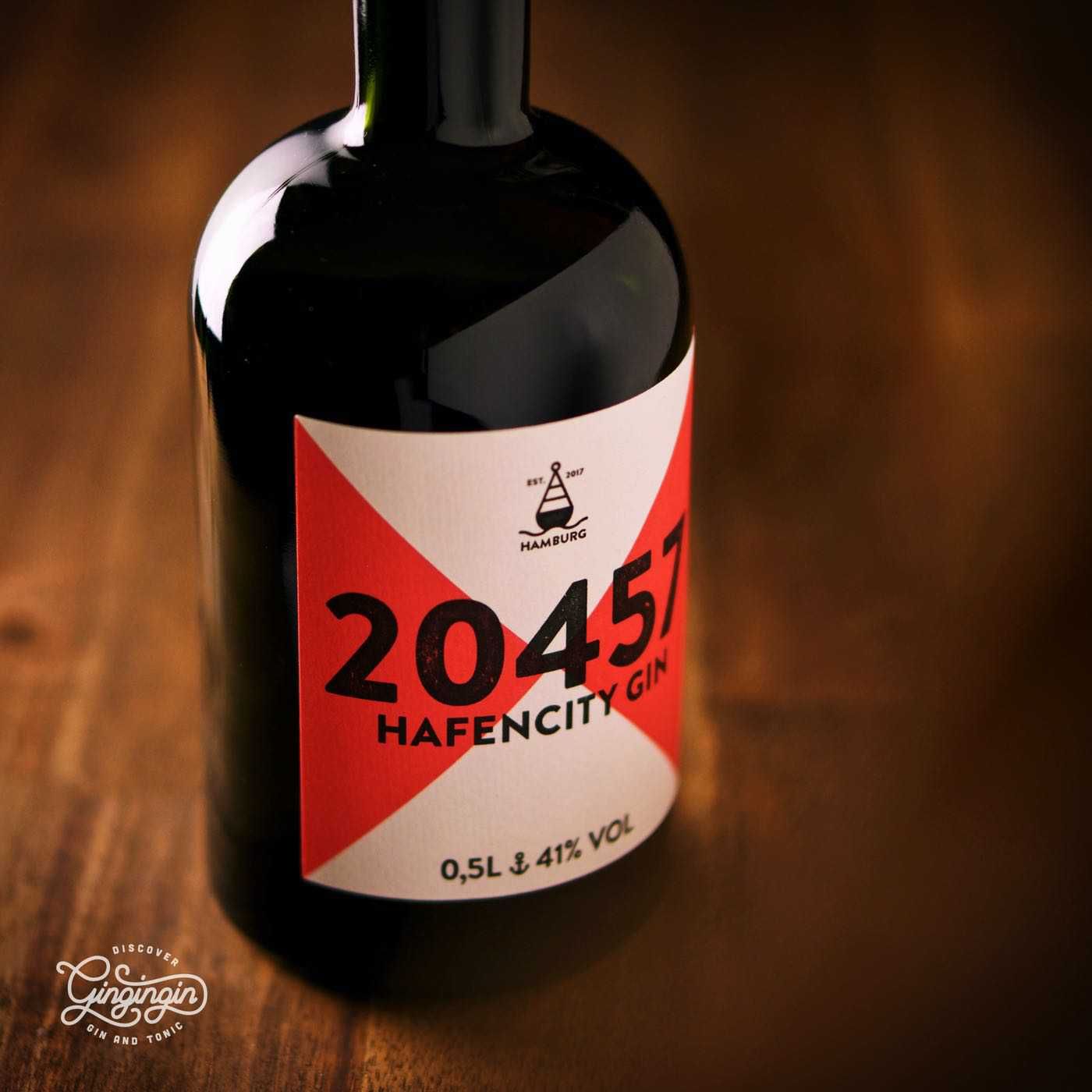 It started with a small copper still
René joined an evening with a few colleagues and friends where they met a guy who introduced them to distilling. They were all excited about it but he was the only one who actually bought a small still after that event. And so he got to work and started collecting things: herbs, fruit, whatever he could think of. And he distilled, he distilled and he distilled. Way beyond the 150 distilled samples he started to mix things to try how they would work together.
100+ distilled botanicals and even more combinations
Endless combinations and trials went by and then he decided to make a gin and play with the distilates. This was just for a few friends and never intended to be a product. But he apparently did his job too well: Everyone encouraged him to make more because they liked it so much. Now, I assume you can only say no to your friends this often before you have to give in eventually. And this marked the start or birth of the Hafencity Gin. So kids let this be a lesson to you: If you do things too well, you might have to go the next step as well … ;)
The gin is produced in small batches with the botanicals mazerating for a few days and distilled four times in a 200 litre copper still, London Dry style. The gin is not too strong at 41% ABV. Bottle sizes are 0,5 litres and 5 cl.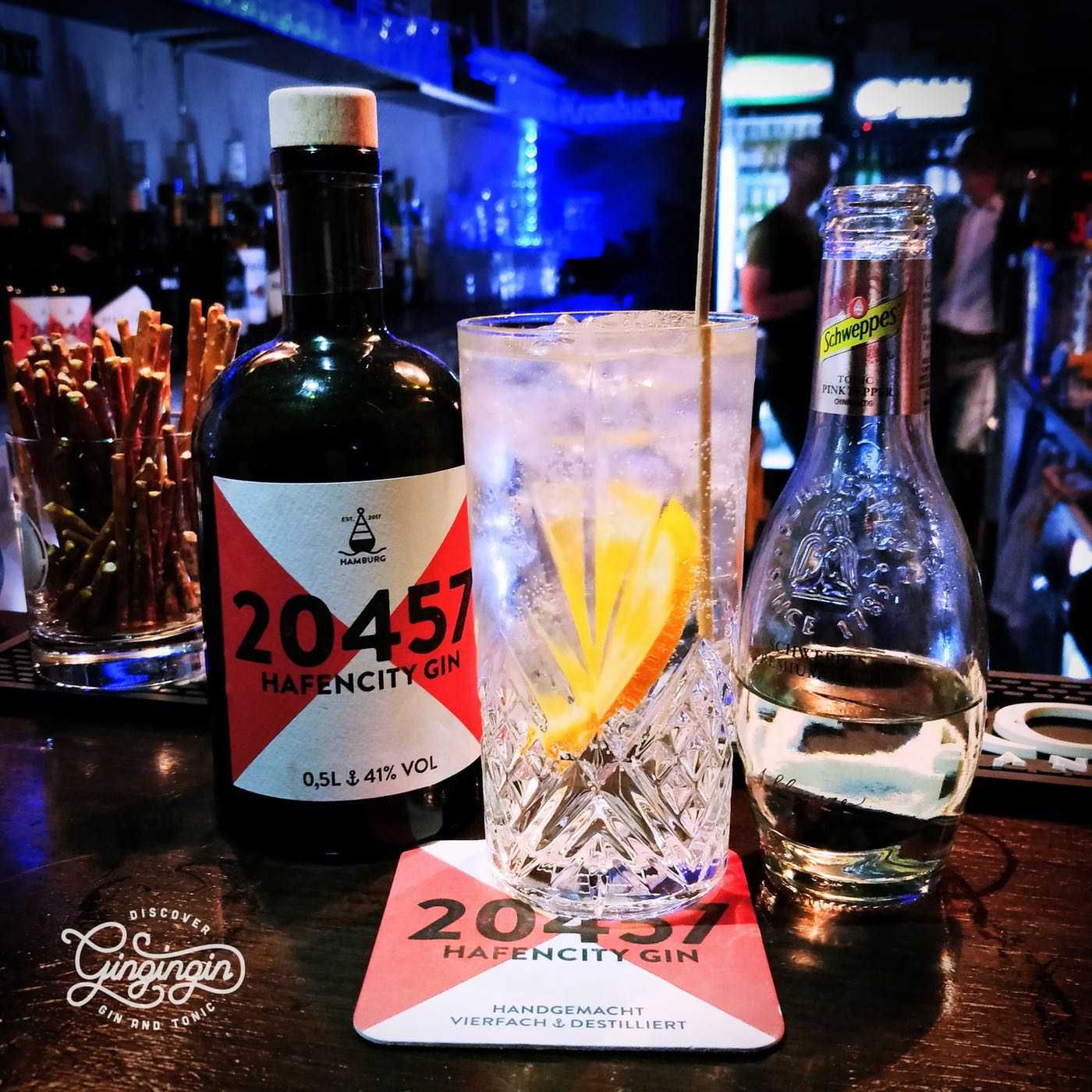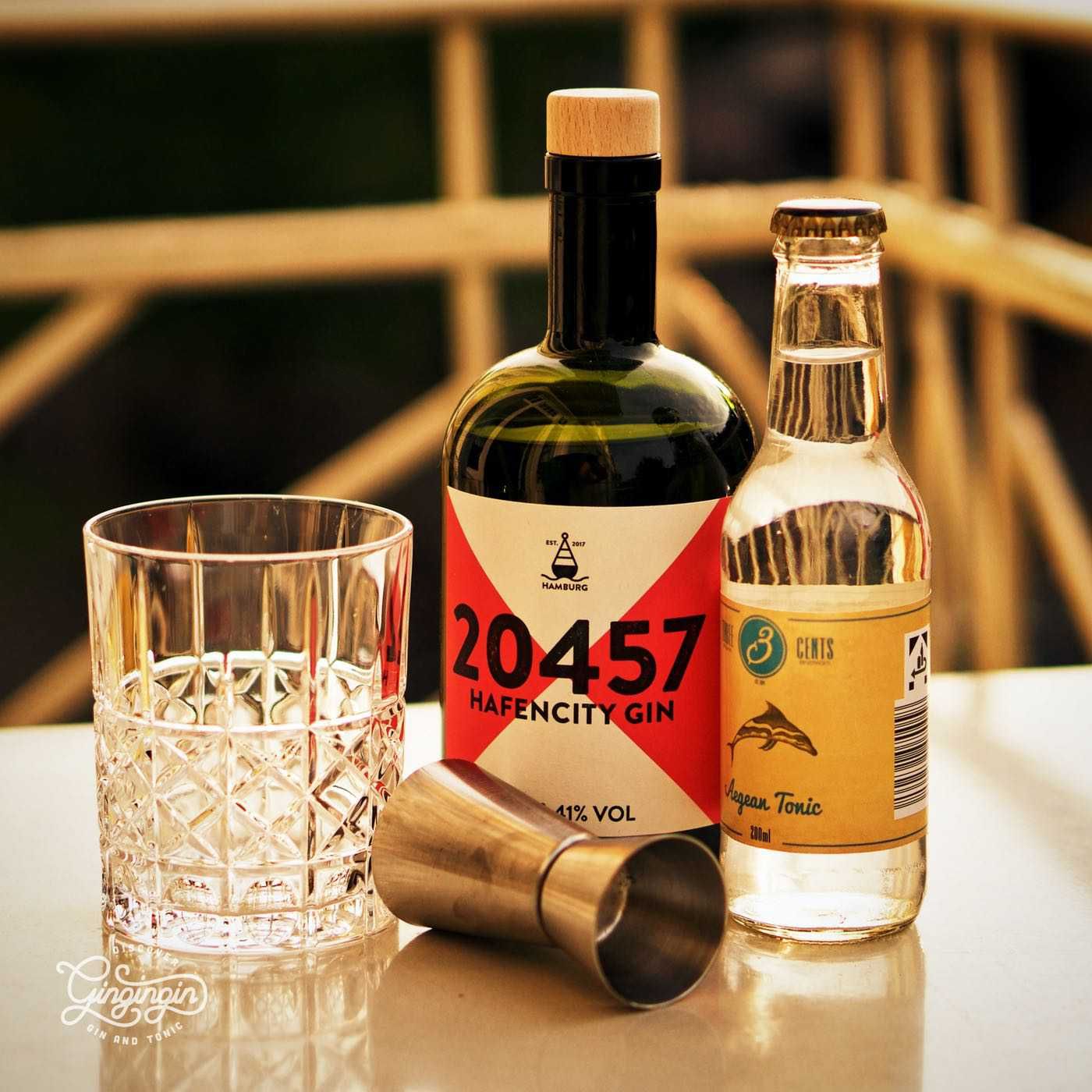 Both the Schweppes Premium Tonic Pink Pepper and the Three Cents Aegean Tonic pair well with the 20457 Hafencity Gin
Botanicals
The gin is not distilled on the small still anymore. A distillery has managed to work with René to get the gin as close to what he wanted it as possible. Since he knew what he was doing by then he could ask for specifics and could really discuss details. Unlike many who simply go and tell a distiller to "create something special". And it took a while and one distillery to find the right one.
What would be signature botanicals for a harbour origin
Now the idea behind the botanicals was to get some special tastes into the gin but still pay tribute to the harbour, international trade and the history of the Hafencity which used to be a customs-free trade zone, with many spice dealers, carpet importers, coffee traders etc., before the district was turned into a new area for people to live and work in. So the botanicals are as follows:
juniper

kaffir lime leaves

orange peels

cubeb pepper

nutmeg

coriander seeds

chamomile

ginger

nana mint

angelica root

a few more, but secret botanicals. I cannot tell you unfortunately, I promised René to keep the secret. But they work well and match the idea of the harbour quite well.
Tasting
Nose
It is a smooth nose. There is a certain freshness, but not the typical piney, lemon freshness. More like what one might know from Buddhas finger, used in the Cubical/botanical gins. I find it hard to describe, it is fresh but earthy at the same time. The chamomile probably takes some of the edge off as well. a bit of spice from juniper and the cubeb peppers and the coriander can be guessed as well. In general a smooth and complex nose but very light at the same time. Few gins with such a lightness have brought this along to the glass for me so far.
Palate
Wonderful! A freshness from the kaffir lime and oranges is quickly accompanied by the juniper and pepper. And while the juniper vanishes slowly a mild spicy remains and dances around the lime. And now the other botanicals come and play their role … really nice, an orchestrated sip from start to finish.
Aftertaste
A medium long aftertaste with the long resonance of lime and earthy notes sweet but still fresh until the end. The freshness extends way beyond the spicy sensation.
On ice
Ice takes the spice of the juniper and peppers of a bit. Diluting the gin with a bit of water from the melting ice cubes makes it a little flatter and sweeter but nevertheless still a rich experience, despite the relatively low ABV level.
Perfect serve
When you visit the Club 20457 in the Hafencity, the official home of the gin, you might be lucky to get a serve with a fresh fig and the tonic of choice when I tried it there was the Schweppes Premium Tonic Pink Pepper. That worked quite well I must say and creted a harmonious mix. Until I find a better serve I would recommend going with this one.
Summary and GinGinGin rating
So are you still in shock after I said agency gin? Sorry about that. I like this gin from my neck of the woods. And I love that this is another product created by chance and based on passion and enthusiasm, not driven by some short-sighted money-making scheme. Despite the fact that René comes from the marketing world he rather lets his product become known by word of mouth. That is trust in the product I would say. And personally I think he can only wni by doing so because this gin can convince because of the taste. So it is easy to give this gin a well deserved rating.
The GinGinGin transparency declaration
This gin was a free sample by the producer in order for us to review the bottle. There are and were no obligations nor any edits of this content by the producers. Products tasted and reviewed by GinGinGin are all equally treated, paid for or free samples. If we like gins we buy them afterwards as well. If we do not like them you will read about it as well. When people ask if we would like to review a bottle, it is the first thing we mention to them that this does not guarantee a positive review. Get in touch to know more about reviews of gins. #Advertising / #Werbung