Today marks the German release day of the Canaïma Gin. This gin from Venezuela is produced in DUSA's distillery which is the source of Diplomático rums as well. Since the founding days the distillery produces gin for both their own brands and other companies.
Environmental involvement and activities
As the company claims to have both the people and the environment at the core of their corporate values, they implemented various measures to bring this into reality: According to my information waste is being used as natural fertiliser, local products are being used, local communities are being supported and involved.
Origin of the gin botanicals: Amazonia
While the knowledge about local botanicals is used in other products as well, the selection of herbs and fruits for the Canaïma Gin was made in collaboration with Amazonian communities, who are involved in the careful harvesting and foraging within the rainforest.
Canaïma is a national park located in the Venezuelan state of Bolivar in Amazonia. Amazonia itself as we all now is the biggest rainforest area on the planet, unfortunately being heavily diminished every day by fires, the creation of farm land, and construction work. So the huge more than six million square kilometres area of Amazonia (that is 1.5 × the size of the whole EU), according to official sources, was reduced by 6.700 square kilometres in 2018. Well done, 1.000.000 football fields. With the recent fires in the Amazonas rainforests we once again saw how important the protection is and how much these forests do for us. Nobody knows what we destroy every second before we even discover it. It is a great thing when a company puts protection and conservation onto their agenda to counteract such horrible developments.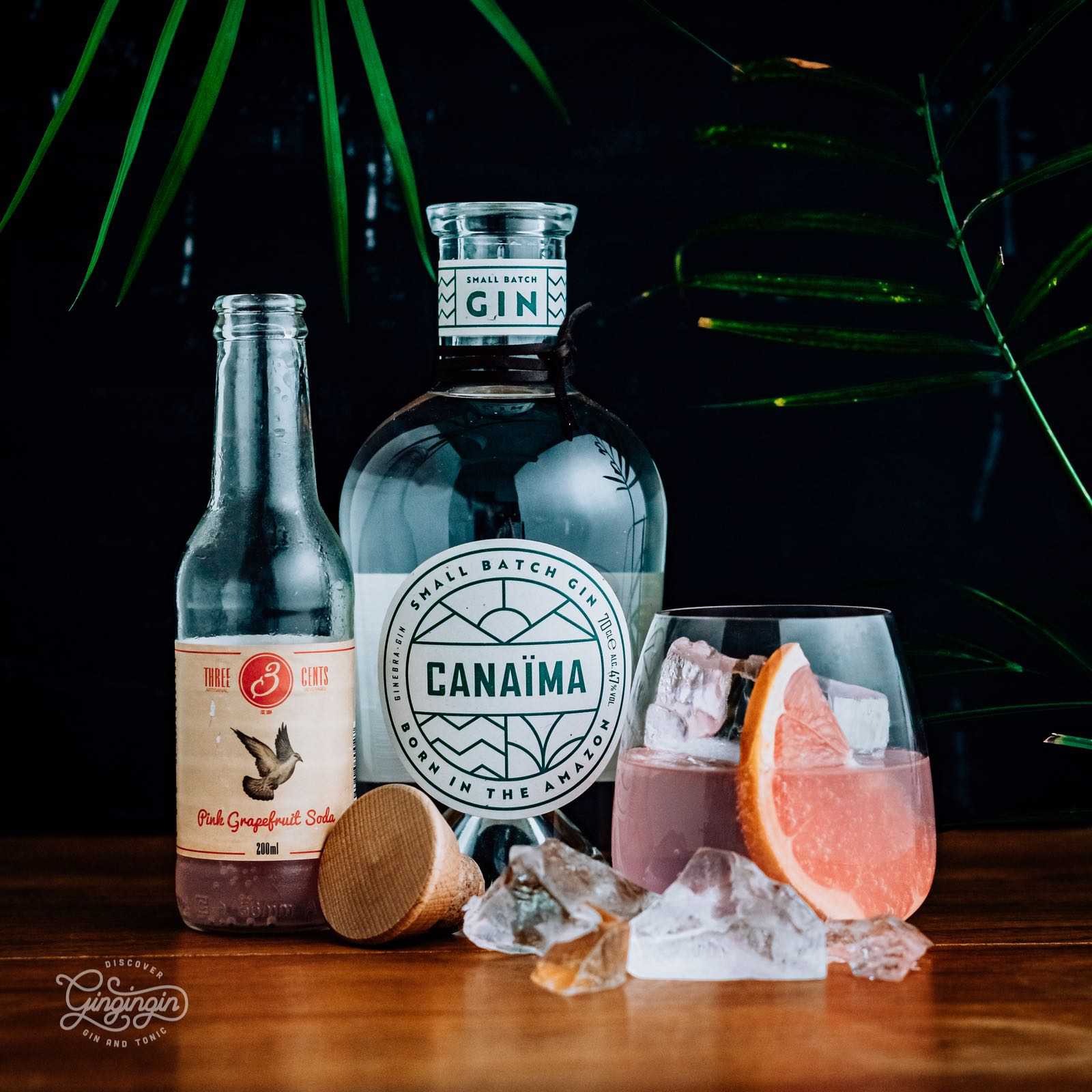 Production of the Canaïma Gin
The process is a multistep procedure. The botanicals are separately macerated in neutral grain alcohol and are distilled separately as well in a 500 litre copper still. Afterwards the separate distillates are combined to create the final flavour profile.
The gin comes in a 700 ml bottle with a nice leather-style band and clocks in at 47% ABV. With an ABV of this level a lot of aroma can be carried for sure.
Canaïma Gin Botanicals
With ten exotic and 8 classic gin botanicals as well as one local fruit the gin is a true mix of local and classic tastes and flavours. Some of them are:
Juniper

lemon peel,

orange peel,

coriander

angelica root

fennel

Merey, a.k.a. Cashew

Açaí

Uva de palma

Túpiro

Seje

Copoazú
On the official website and on Instagram you can find a few explanations for the botanicals.
Tasting the Canaïma Gin
Nose
A citrus-fresh, and fruit-loaded bouquet welcomes you. A hint of spice / juniper can be sensed as well.
Palate and aftertaste
Opens with spicy freshness, a soft juniperesque burn following. Warming and rich in taste, but not heavy and too earthy. It is more like a rocket engine starting up and then a second booster opens up a complete new stage of power after a moment.
In the third stage the fruit and depth of the gin gets added. It feels like a classic gin after a moment and then you sense all the details in the background. Exciting fine details, always accompanied by the classic gin base.
The aftertaste of the gin is warm, sweet and leaves a slight burn and spice lingering for a while. Not in an annoying way, but rather as a bold statement. Pepper or chilies come to mind.
The Signature Serve for the Canaïma Gin
Naturally I would have tried this gin with tonic. However the first recommendation and test I did was with the Three Cents Pink Grapefruit Soda. Obviously this turns into a super mixer driven drink, but I have to admit that both worked well together. Obviously the tonic trials need to be added later as well. Please come back for more intel on what to pair this gin with ideally.
Summary
The Canaïma Gin is a really tasty gin, it has classic notes and brings lovely fruit and herbal touches to the mix as well. The peppery bits are exciting but not 100% on my list of things to have. However, in the mixer combination it worked incredibly well though. A gin definitely to check out and try with more tonics and in a negroni for instance. And I am sure a fizz is a good idea for this gin as well.
This bottle was kindly made available by Sierra Madre GmbH who in addition to the 10 % of the profits which the distillery donates to the Saving the Amazon charity, will add 50 ¢ per bottle to the same charity as well. Great stuff!
On the web
The GinGinGin transparency declaration
This gin was a free sample by the producer in order for us to review the bottle. There are and were no obligations nor any edits of this content by the producers. Products tasted and reviewed by GinGinGin are all equally treated, paid for or free samples. If we like gins we buy them afterwards as well. If we do not like them you will read about it as well. When people ask if we would like to review a bottle, it is the first thing we mention to them that this does not guarantee a positive review. Get in touch to know more about reviews of gins. #Advertising / #Werbung