The Darnley's Gin(s) are produced on the East coast of Scotland in Kingbarns. There is a range of gins they produce but this reviews the Darnley's Original Gin, their standard, classical gin one might say.
The distillery creates the gin in a 300 litre still and uses a four-times distilled British-grown grain spirit as the base alcohol. The gin is then produced, as the label tells you quite prominently, as a London Dry Gin. 
Botanicals of the Darnley's Original Gin
Juniper

Lemon Peel

Coriander Seed

Elderflower

Angelica Root

Orris Root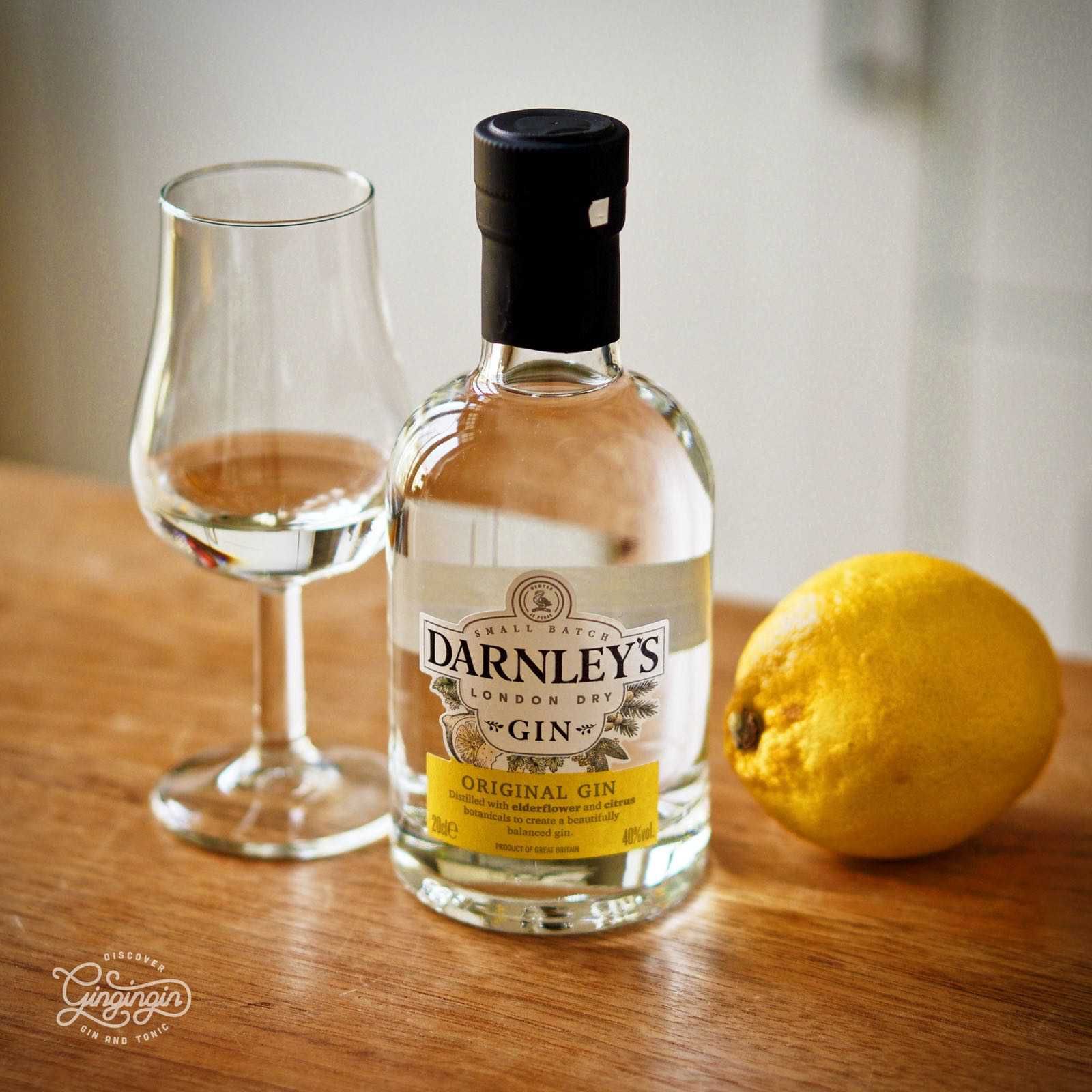 Tasting the Darnley's Original Gin
Nose
At first I was expecting a super charge of citrus from what it read on the label, packaging and the website. But not only did I get citrus notes, but an earthy touch as well. The spice of the juniper came after a moment and so did a hint of almond.
Palate
Tasting though, juniper kicked things off. A spice growing on you and then moving on to citrus flavour. I was not too sure how to classify it, not as sweet as oranges, but not as light as lemons. But that did not really matter, it is citrussy.
The Darnley's Original Gin has some sweet touch as well, like a faint vanilla aroma, paired with cinnamon and it's spice as well. In general a gin that really felt dry and not very fruitful.
Finish and aftertaste
The aftertaste and finish are dry and with a medium long presence. You even get a slight chiliesque spice with it.
Summary and GinGinGin rating
Concerning the complexity I have had gins which were a lot less interesting, duller and with a lot less interesting depth. But there are more complex ones as well. If you are in the market for a gin that is crisp and brings some earthy notes at the same time as it is citrussy, this one is worth a try.
I can imagine this gin in many cocktails and in a Dry Martini it might be a killer as well since it has this earthy touch to it.
The GinGinGin transparency declaration
This gin was a purchased bottle. There are and were no obligations nor any edits of this content by the producers. Products tasted and reviewed by GinGinGin are all equally treated, paid for or free samples. If we like gins we buy them afterwards as well. If we do not like them you will read about it as well. When people ask if we would like to review a bottle, it is the first thing we mention to them that this does not guarantee a positive review. Get in touch to know more about reviews of gins. #Advertising / #Werbung