The perfect Gin & Tonic glass
Many people wonder and ask: "What is the perfect glass for a Gin & Tonic?" As with many things in life the answer is: It depends. Let's have a look at the different types of glasses to serve a G&T.
Glass real estate / volume
When discussing glassware we are basically looking at design. Of course there are thousands of different designs and decors but here and now we need to talk about the shape and volume as well as the glass opening.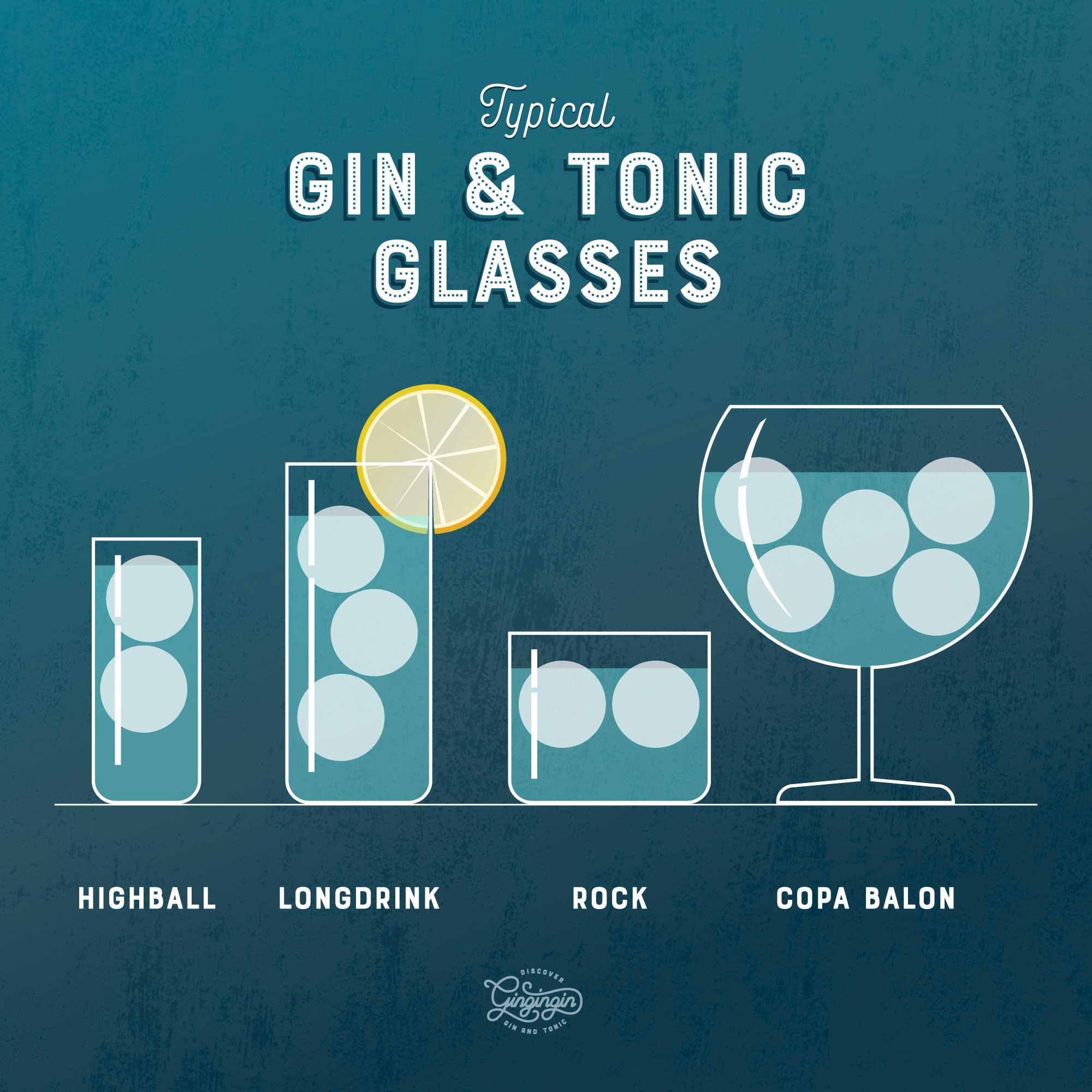 The highball glass
The highball glass is a slim cylinder shaped glass which to my knowledge has become more and more of a standard Gin and Tonic glass in the UK for instance. It carries less volume, approximately 0,25 liters. When served with ice this volume is even further reduced and limits the amount liquid that fits inside. When I visit the Boilerman Bar in Hamburg I get drinks served in these glasses. The nice thing is that they keep cool when you do not hold them all the time and the drinks are always fresh since the actuall amount you get is less. A good chance to crank the ratio spirit to mixer up a bit :) And in terms of garnishes you could try spiralling a long "tongue" of cucumber inside the glass or a long orange zest.
The Copa Balon
Now we travel to spain where this glass has become the standard glass. It reminds of a huge red wine bowl to some extent and offers a ridiculously large volume to fill. But there is a good reason for that. No, the drinks are not so much bigger, but the glass can carry lots and lots of ice to keep your drink cool. Since you are not holding the glass in an area where the liquid is kept, you are not warming the drink with your hands.
When adding garnishes the big advantage of the Copa Balon glass is that your nose is close to garnishes and additional botanicals letting you smell and enjoy these extra scents.
The Rock glass
Similar in volume with a highball glass but far wider and less high this glass works great with smaller serves and offers more chances for garnishes than the highball glass. Again the opening is wider and gives the chance to be closer with tha nose to the garnishes. Many classic rock glasses look amazing and for that alone they are a champ when it comes to making your G&T stun the drinker of the longdrink. Speaking about longdrinks …
The longdrink glass
We talked about the highball glass and I think it is fair to say that the longdrink glass is something like the bigger brother. More volume and a wider opening. This again leaves you with the chance to garnish a bit more easily than in a highball glass. But more ice and liquid can be added as well. Especially in summer this is a great idea to keep your G&T from melting away.
The best glass for your Gin & Tonic
Personally I love using a Copa Balon when having a Gin and Tonic. The large volume and the option to have lots of ice in "the bowl" makes it a great glass during the summer time.
A highball glass on the other hand is a wonderful option if you want to serve smaller serves and still keep them reasonably cold over some time. Just be careful to not use the same amount of alcohol when using a highball glass. Well, or at least be aware of the fact that these are emptied quicker than you could order a new one.
So, eventually it comes down to preference which glass you would like to use. There are wonderful glasses available on the market to choose from, simple, futuristic, old-school, classy, whatever floats your boat is fine. It is worth keeping your eyes open at the next flea market or garage sale as well. Sometimes you get these epic glasses for a few cents.
Bonus: Preparing your glass for a Gin & Tonic
There is nothing worse than a warm Gin & Tonic. So having lots of ice is a great idea. But in order to start properly we always keep a few G&T glasses in the freezer here at the GinGinGin headquarters. That way the ice does not start melting right away. If you can find the space in your freezer try it.
We will talk about ice in another post but try to have lots of ice available. When visiting friends I am always amazed how they think that a party can be managed with one of those small trays of ice cubes. Buy a bag, preferably sealable so the odours from the freezer cannot get to the ice.
Now, we are looking forward to seeing you serving your Gin & Tonic in style and with lots of ice. We do on premise inspections if you want us too ;)