In an interview with Sebastian Dötsch I got to learn a few things about the Eck Koblenz Dry Gin and the story behind it.
Eck Gin — A regional gin for Koblenz
Sebastian has been busy organising parties and events for students in Koblenz for a while when he figured out that there was no local gin to be used. With so much heritage nd the special location of the city he decided to pursue the idea of creating a local gin.
But as things go, sometimes life is busy and despite the fact that he had a few ideas already, even purchased bottles of the characteristic shape resembling the Deutsches Eck shape as seen from above (Deutsches Eck is the peninsula where Rhine and Mosel river merge), he did not carry on with his plan. Until …
Two people with the same idea to create a Gin for Koblenz
… until he was told that Lars Jäger, who has a bar tending background, was thinking about and working on the making of a gin for the city.
That's impossible. How can someone else be creating a Koblenz Dry Gin? It was supposed to be me doing that?
—Sebastian Dötsch
So with that knowledge the two met and felt comfortable embarking on this endeavour together. Born was the newly joint team to create the gin.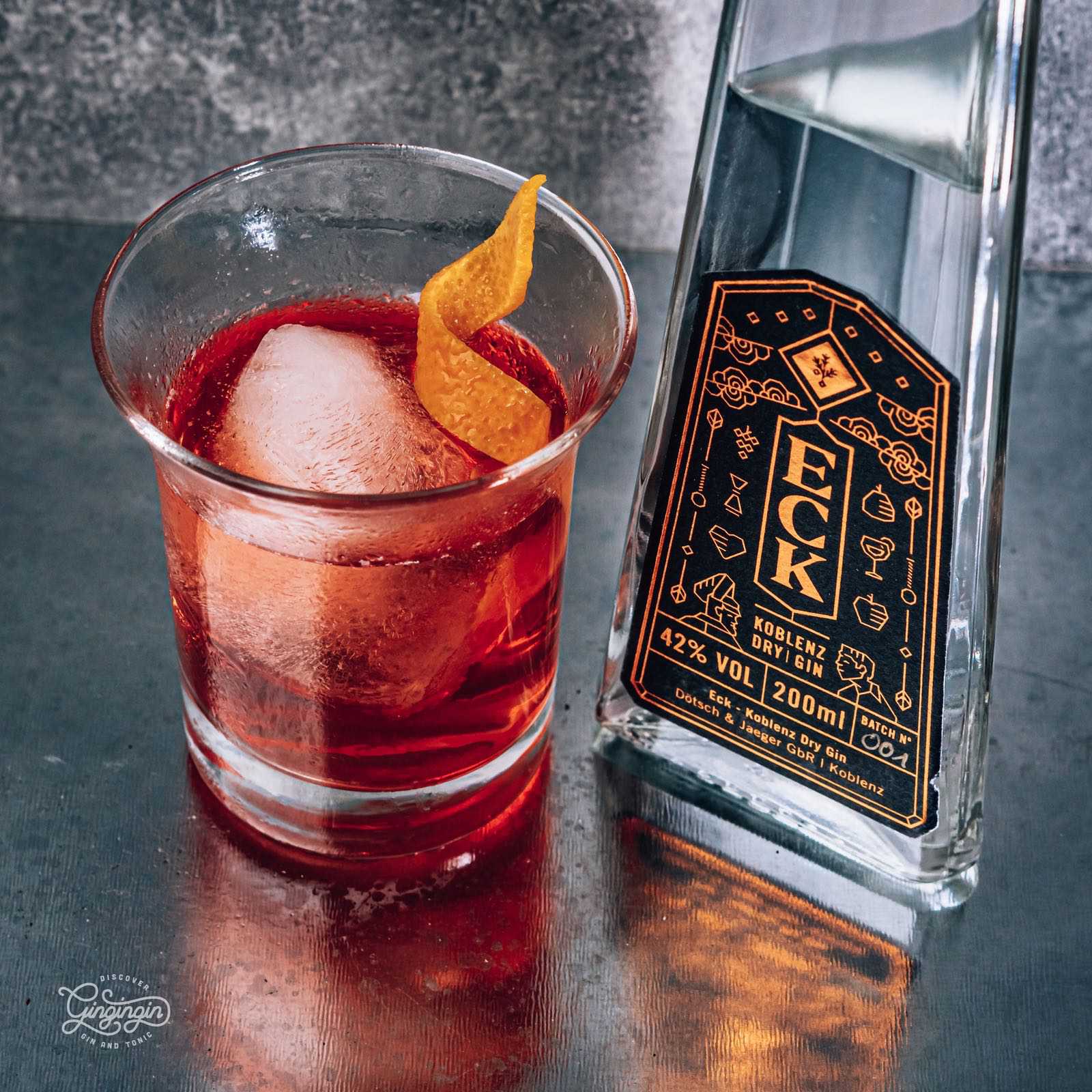 Crowdfunding the Eck Koblenz Dry Gin
They started creating the gin recipe with a local distillery, hired a local design agency, and got their idea started by launching a crowdfunding campaign to get the gin of the ground. This turned out to be a success as they exceeded their originally planned funding goal by far and in September the campaign was successfully finished.
The first 300 bottles went quickly and the plan to market and sell locally, buy locally, produce locally started.
Hyper local gin making
With now pretty much must of the ingredients coming from within a radius of 40 km around Koblenz, even the bottles are no imports anymore, only the juniper and citrus is from further away. Hamburg is a great example of so many gins pretending to be from there but some bottles never even see Hamburg from far away, this is a nice example of really embracing the idea of a local product.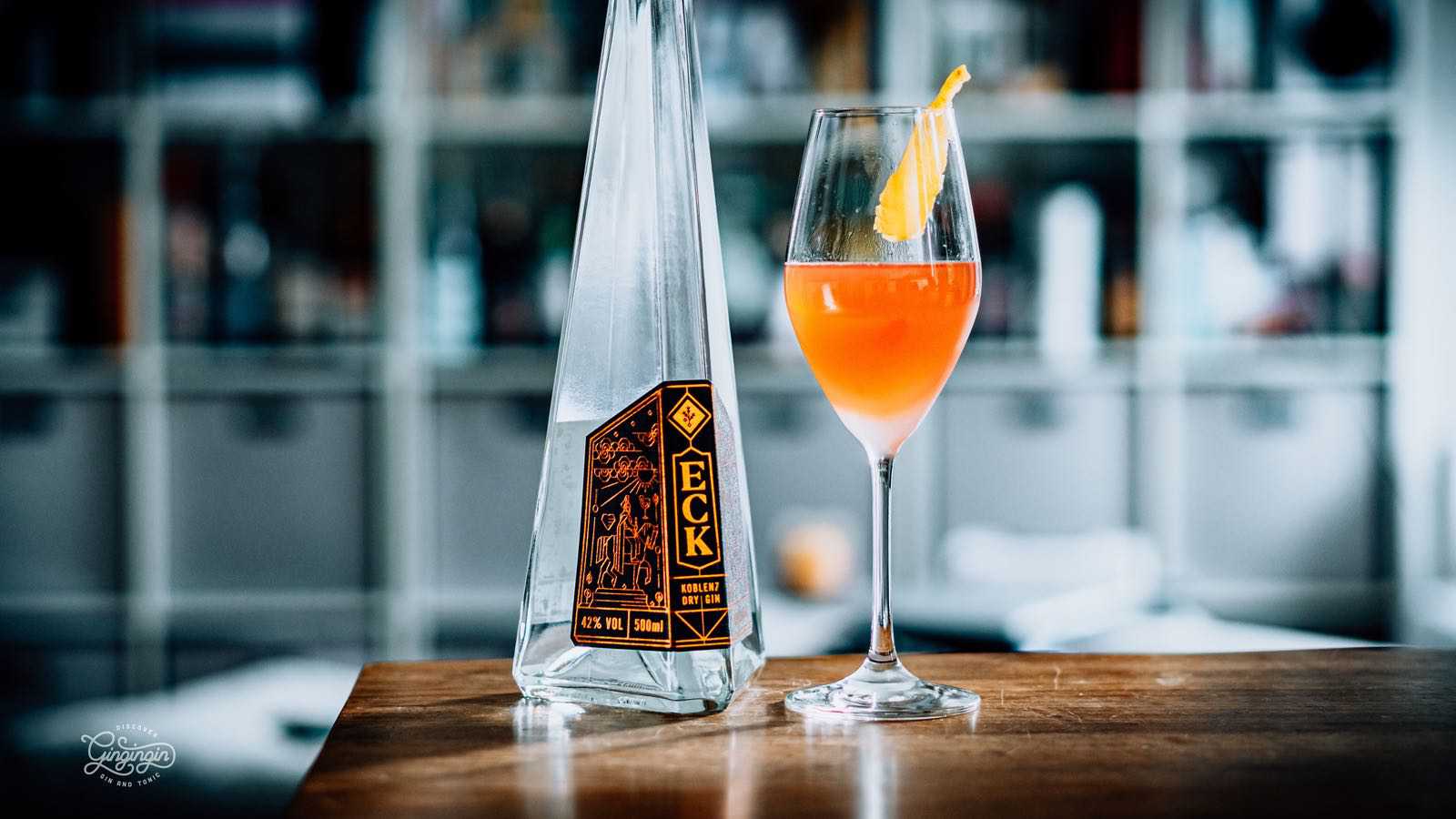 Eindrucksvolles Flaschendesign mit viel Konzept und detailverliebter Umsetzung.
Making the Eck Koblenz Dry Gin
The original recipe for the gin was created by Lars by infusing vodka with juniper, pears, and grapes. That made for a good start and represents the area well as the Rhine rivers are home to some orchards where as the Mosel river banks are famously known for the Riesling grapes. This way the composition symbolises the two streams merging in Koblenz in a great and tasty fashion. After these first trials the guys started their work with the distillery and after five rounds of distilling had the final recipe ready to rumble.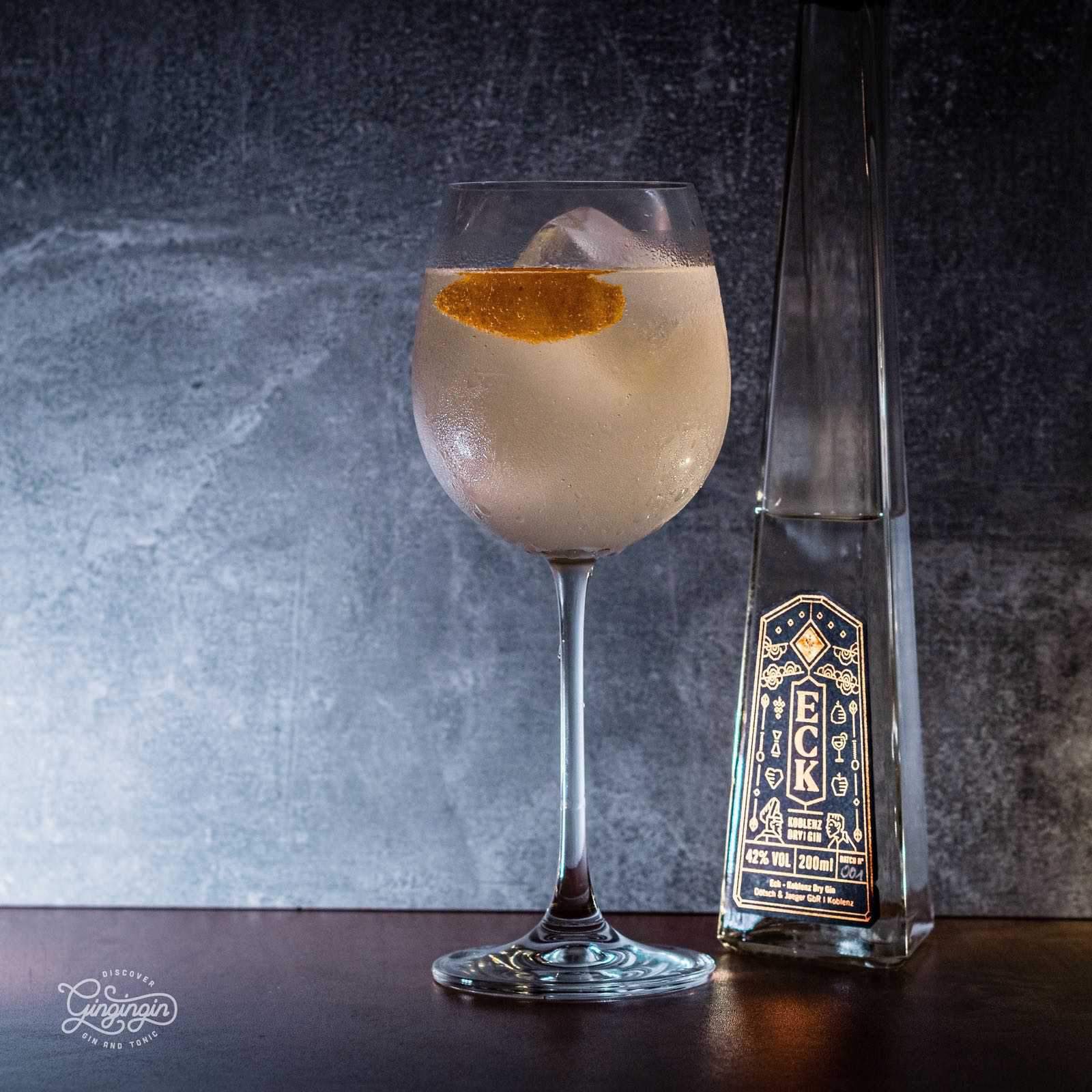 Der Eck Kpoblenz Dry Gin, kurz Eck Gin, macht auch im Negroni oder mit Ingwer und Gingerbeer eine gute Figur
Right now they are on batch 6 and produce 733 bottles per batch, which is quite impressive given the local focus they have so far. Well done.
Botanicals used in the Eck Koblenz Dry Gin
Juniper

Citrus peel

Apples

Pears

Grapes

Fennel seeds

Cardamom

Coriander seeds
Tasting notes for the Eck Gin
The original Eck Koblenz Dry Gin comes in 200 and 500 ml bottles both at 42 % ABV.
Nose
A fruit bouquet in a bottle, released upon pouring. The gin has an amazing multitude of fruit scents rising from the liquid. Citrus makes it light, but apples and fennel are present as well. 
Palate
The taste is broad right from the get go. The lightness and crisp start get quickly enhanced by so many tastes at the same time. The apple and grapes are playing the melodies here juniper and cardamom in the background. It turns spicy warm after a moment and after that you get various stages of fruits and spices bouncing back and forth.
Aftertaste
The Eck Gin has quite a few different nuances to its aftertaste. It lasts medium long and is sweet and warm, towards the end turning into a bit more of a bitter side and vanishing after that. Pleasant.
With ice
Ice liberates the juniper taste and makes the apple and grapes come to the front. The taste does not get juicy, but has a certain depth to it. A touch of bitterness and a lasting apple taste.
Summary for the Eck Gin and GinGinGin rating
The Eck Gin is a gem in terms of design and a pain because it just does not fit into your regular shelf. It is a bottle you most certainly have to place in a special location. Understanding and loving the bottle, I hate it at the same time for not being storable.
The taste is a wonderful concept and makes for good base for all different kinds of drinks. The availability at 200 ml makes for a great starter bottle. Not sure about the gin? Well, at 200 ml there is enough to try it in different mixes but not as much for a bottle to sit almost full on a shelf because you did not like it.
Now, I think the gin is a good one, it works in so many situations, I might even upgrade it when the tonic tests are successful.
The GinGinGin transparency declaration
This gin was a free sample by the producer in order for us to review the bottle. There are and were no obligations nor any edits of this content by the producers. Products tasted and reviewed by GinGinGin are all equally treated, paid for or free samples. If we like gins we buy them afterwards as well. If we do not like them you will read about it as well. When people ask if we would like to review a bottle, it is the first thing we mention to them that this does not guarantee a positive review. Get in touch to know more about reviews of gins. #Advertising / #Werbung