It starts like one of those cookie cutter stories: Two friends, Martin Prinzenberg and Timo Becker, get together and create a gin. So far so good. They know each other for 27 years and share lots of common experiences and interests. To be honest with you, that is the story I get pitched all the time. It bores me to death. With that being said let's get to the essentials because there is a lot more to this gin and what the guys do than that.
Both Martin and Timo are no distillers or from the spirits industry. As of today this is a hobby and side hussle they enjoy a lot. So why a gin? Why not something with music because that is what they have in common, a history in Bochum's music scene with club ownership and a dj platform.
Inspired by the great grandfather
Martin's great grandfather used to make a herbal liqueur which apparently was quite popular. It dates back to 1891. Now the product was not produced at some point anymore, but they two friends, now even neighbours as well, felt that it was time to resurrect the recipe with a few tweaks and improvements to make it ready for current taste and demands. They aimed at something not too sweet and not too bitter, drinkable at room temperature.
Adding a gin and hops to the portfolio
Now this first exploration into the spirits world worked quite well and they got to the point where they had the idea to add another spirit as well. With friends Carla and Hubertus Fiege running the local Bochum brewery Privatbrauerei Moritz Fiege, they had the chance to get someone aboard to support them with the choice of hops as an ingredient which they felt was something worth exploring as they had figured out to focus on creating a gin next.
Difficulty of distilling hops
They tried various flavours of hops and started macerating those in a base gin. But it soon turned out that despite having identified a specific type of hops as their favourite selection this would prove to be difficult. Despite being quite precise and careful when macerating samples for different periods of time the hops behaved randomly in terms of giving off flavours: freshness and other factors had severe consequences on the taste. That called for macerating and distilling the hops separately and tweaking they ratios afterwards with the rest of the distilled botanicals.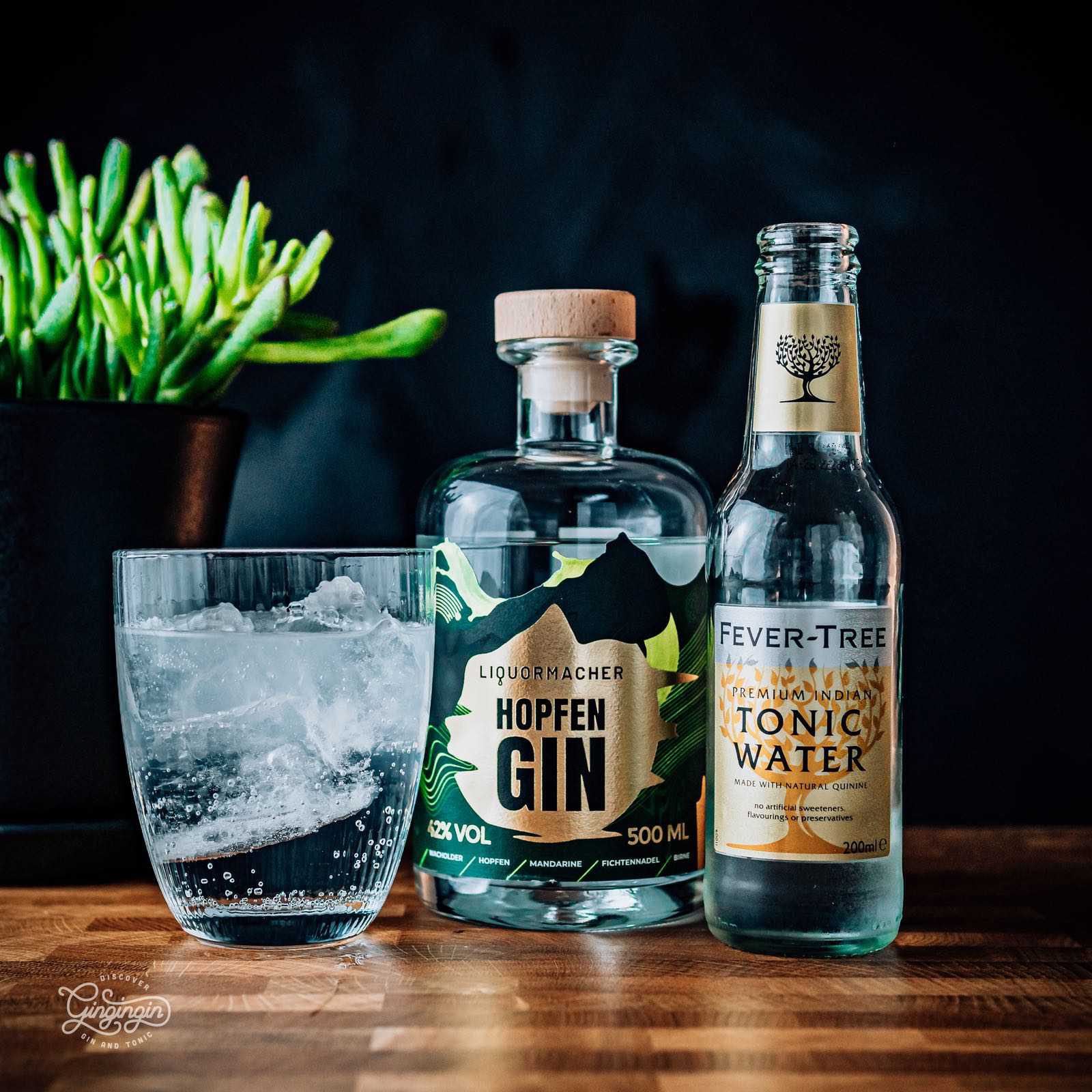 Almost there… not. A new distillery, please.
Another pitfall came up as well: The first distillery was a great start for them, but they were not 100% happy. When asking some friends and especially bartenders they told them that the gin was okay, but not yet perfect. There was too much alcohol burn for instance. So they moved on and found another prtner to distill their spirits. And this time the quality was a lot better. Sometimes it can be hard to be very close to the finish line and start again, but in this case I can only say that it made sense from what I got to taste as the final product.
Launch day was close, but …
So with a new partner distilling their product and achieving a way better quality, the two friends were quite happy. But there is an imminent danger when you live next to each other and get to share ideas and have a barbecue in the garden. You get that stupid idea that with a hops gin and a herbal liqueur you have everything you need except for one thing: A gin that works perfectly as a companion to your barbecue. Wait. Things are almost ready to be launched and then you stop? Because of an idea of another product? Yep, you understood it right. The boys got back to work, created another gin, this time with a focus on rosemary, got another label designed, actually changed the first one as well, ready.
Triple launch, what a start for a new business
Coming to think about it, this is not your typical gin made by two friends anymore. They really got a pretty amazing start portfolio developed for a team of not even being at home in the spirits world. Well done!
Unlike many others the two did not compromise anywhere. They knew that if this thing would work for them, and with the background of a) a historical product and b) the help and support from a local brewery love brand as I was told, they decided to go all pro. No packing parcels at home, not properly scaling, cutting into their day jobs. So they decided to outsource this to some people they knew running a logistics company. Smart move. This is probably where a day job helps where you run various online shops.
The Gin Basics
At 42% ABV the gin is in a typical range and carries the flavours nicely. Bottle size is a typical 0.5 litre bottle with quite an intricate label. The base alcohol is a typical 96% ABV one, but the water comes from a well directly underneath their distillery's plot of land. The batches are rather small I am told.
For the holiday season 2019 there are some magnum hops gin bottles planned which will only be available in local shops in Bochum and its surroundings. And while the magnum sized ones are very limited there are some minis offering a set of the now four gins, because there is a pink gin which got creted after the launch as well. So a nice set to give away and try their products.
Botanicals in the Liquormacher Hopfen gin
juniper

hops

tangerine

pine needles

pears
Tasting
Nose
Very floral. One can sense fruit, very fresh and yet with lots of volume. A hint of honey pairs with what one could describe as hints of beer.
Palate
A smooth experience, slowly building over time. It feels as if spiciness is almost tamed somehow. Very nice floral and fruity hops notes can be sensed again. I had an impression of some kind of caramel touch to it. In general the spice
Aftertaste
Very long lasting, very resistant to change as a matter of fact. There are gins where I would mind this but here it was pleasant.
On ice
Ice works as a juniper booster in this case. The water and temperature drop make the juniper step forward and tame the other ingredients.
Summary
I was a bit prejudiced when I was approached by Martin at first. The bottles looked very slick, agency-like, a complete range, a story (see above) which sounded like it came from the gin-marketing-story generator. But I force myself to try hard to not judge a book by its cover. And that is very hard as everyone knows.
In this case I must say that the first two gins are solid and enjoyable. The hops gin makes for quite a different new addition to the market, which I like a lot. The sip factor is high for these already. For the hops gin I think it is fair to give a rating with innovation bonus included. Well done Martin and Timo, I am sure we will see many more things coming from you in the future. Best of luck!
The GinGinGin transparency declaration
This gin was a free sample by the producer in order for us to review the bottle. There are and were no obligations nor any edits of this content by the producers. Products tasted and reviewed by GinGinGin are all equally treated, paid for or free samples. If we like gins we buy them afterwards as well. If we do not like them you will read about it as well. When people ask if we would like to review a bottle, it is the first thing we mention to them that this does not guarantee a positive review. Get in touch to know more about reviews of gins. #Advertising / #Werbung