One of my discoveries in 2018 was the Simon's Destillatmanufaktur. I have not even come to the point where I could say that I have tried a fraction of what they produce, but I tried some gins. One of those is the Sommergarten Gin. And as of this writing it is a good idea to capture some of the summer to bring it with you for some of the darker months ahead.
Background
The family lives, seeds, and harvests on a plot of land in Alzenau in Lower-Franconia (Bavaria) since 1707. And since Johann Simon acquired a license to distill spirits in 1879 the family has been producing spirits, in the fifth generation so far. Severin and Susanne run the distillery nowadays (fifth generation) and summarise their approach to creating spirits as follows: "We are paying close attention to the distilling legacy, old recipes and traditions while translating these into modern spirits.". Severin studied winemaking and engineering for winemaking/cellar management and his wife Susanne is a studied craft spirit sommelieré. What a match for getting products created together.
A scroll through their facebook or Instagram feeds gives you an idea how close they work with the ingredients, getting their raw materials from their vineyards and fields nearby. A wonderful way of conserving what grows in the area.
Botanicals
Simon's Sommergarten Gin (summer garden gin) captures the warmest season with these botanicals:
juniper

lavender

various red berries

plus some more
After the distillation the gin is left to settle for a few weeks so the aromas can develop before it is being bottled. The gin comes in a 0,5 litre bottle at 42.5 % ABV.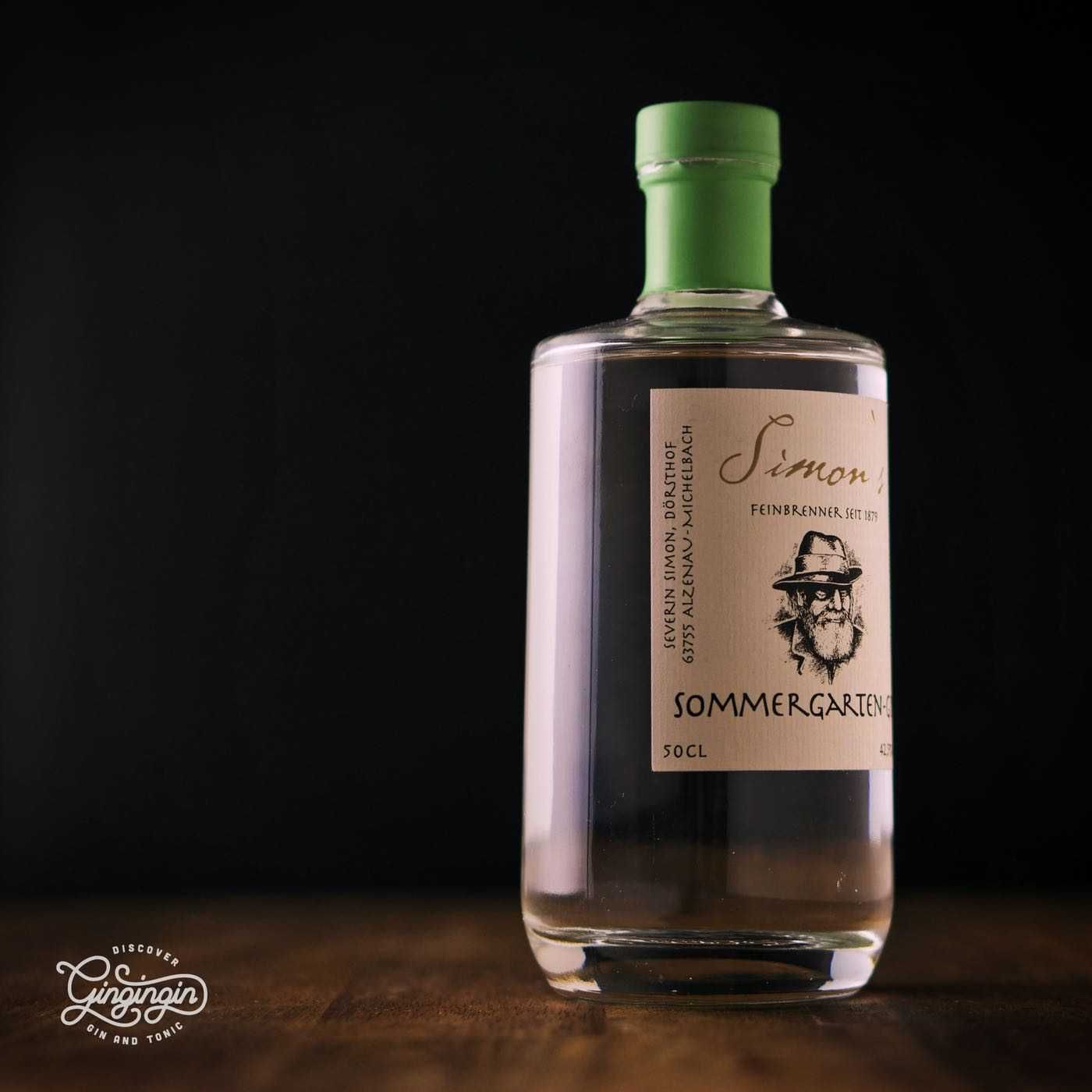 Tasting
Nose
Really floral and fresh. The juniper mixes with lavender, a hint of fruit, almost like apples, starts the experience. Alcohol is pleasantly mixing with the scents and not dominating. All together a fresh, fruity nose with a whiff of slightly herbal notes.
Palate
The taste starts with a smooth sensation. Juniper pairs with the hints of lavender and some fresh floral notes. sweetness is not so present as one might think. Despite the fact of berries being used we are by far not talking about a gin like the Huckleberry Gin or the Brockmann's Gin. This is a finely crafted taste not a sledge hammer approach. Juniper fans, do not worry, this gin still deserves it's name. The piney and resin touch is there. The spice in this gin is balanced and build up over time to lead into the aftertaste.
Aftertaste
The aftertaste leaves you with a nice spiciness and a long and fresh note of the fruit and lavender. Again, fear not, when I write about lavender this is not the cheap, soapy touch of lavender which you might come across sometimes. More like a subtle taste similar to rose water might have.
On ice
Ice and the melting water boosts sweetness a bit and makes the spice dim down a bit. But still you get a fairly similar taste experience.
Perfect serve
In a classic G&T with Indian / Classic tonic water this one works fine. A mediterranean tonic does the job just as good. Really this gin needs some experimenting with tonics as some of the aroma nuances can be triggered quite well, or toned down. I will revisit this gin for more tonic combinations.
Summary and GinGinGin rating
A gin that is fun to serve in summer drinks, during or in memory of the summer. But even in a Negroni I could imagine the aromas to do some solid ground work. Definitely a lot to be discovered. One of three gins I am glad to have discovered and tried for sure.
The GinGinGin transparency declaration
This gin was a free sample by the producer in order for us to review the bottle. There are and were no obligations nor any edits of this content by the producers. Products tasted and reviewed by GinGinGin are all equally treated, paid for or free samples. If we like gins we buy them afterwards as well. If we do not like them you will read about it as well. When people ask if we would like to review a bottle, it is the first thing we mention to them that this does not guarantee a positive review. Get in touch to know more about reviews of gins. #Advertising / #Werbung