The U. Gin by Ulex in Neuhaus (Oste) at the river banks of the river Elbe was given to me by my mother. Coincidentally her name starts with U. Spoiler: I like my Mum a lot better.
As far as I was told they seem to be in the Absinth business primarily but offer a vast range of drinks on their site as well. Interesting combinations of flavours I would not easily choose. But today we are looking at their gin.
The U. Gin has a distinct blue colour which is achieved by adding colouring. The bottle is actually clear. 38 % ABV are what we are talking about in terms of alcohol.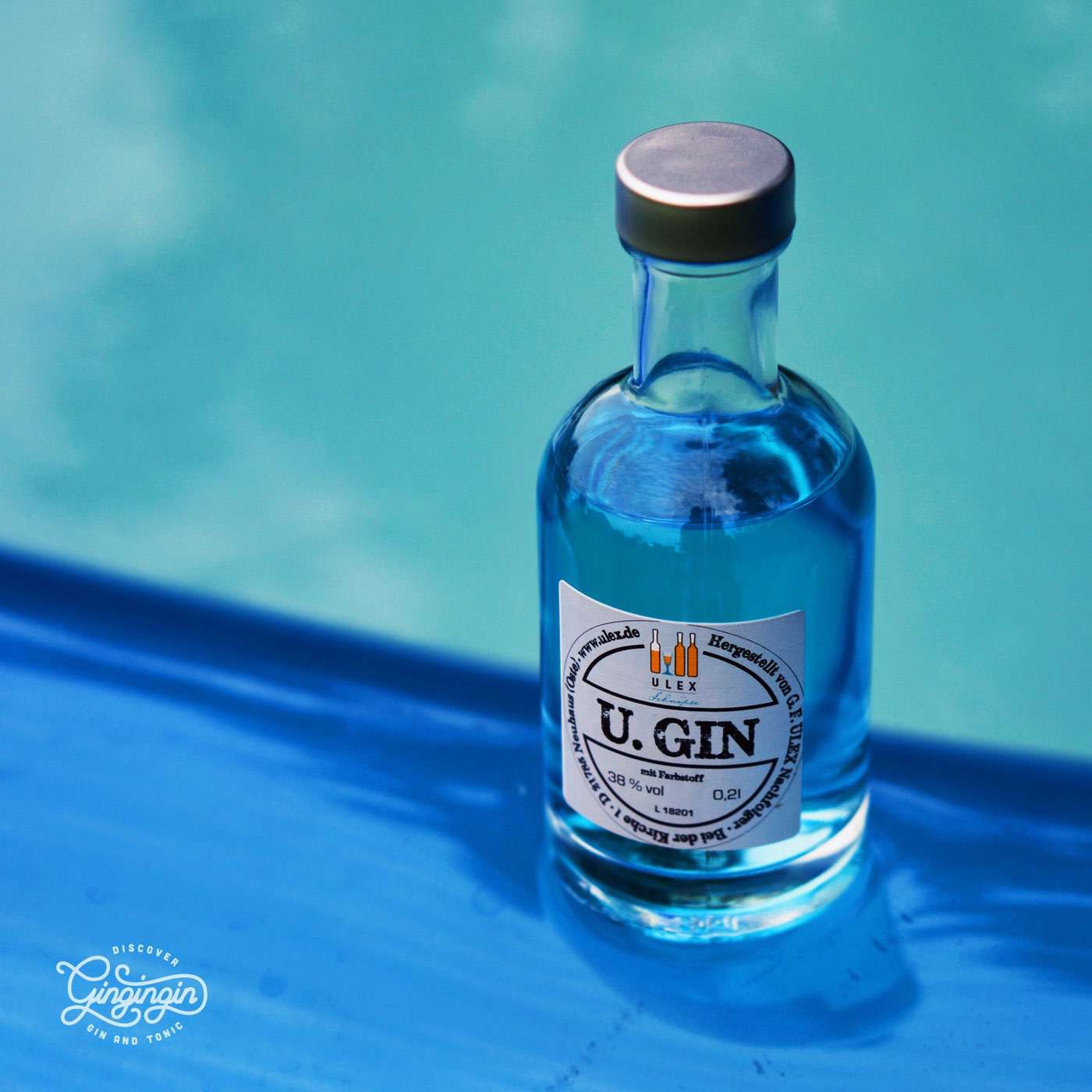 Tasting the U. Gin
Nose
There is a hint of citrus in the nose. But what comes next did not resonate with none of the five people who tried this gin: a soapy smell somehow artificial. Eau de cologne and 4711 were comments. And quite rightfully so. But yes there was juniper as well and a hint of sweetness almost almond like.
Palate
Tasting the U. Gin was light at first, no citrus though. But then it gets very spicy after a few seconds–almost burning. Now the soapy twist was there again and present. Not too nice to be honest with you.
Aftertaste
The aftertaste was long lasting. Juniper with it's spice and warmth, almost a bit earthy after the soap sensation.
On ice
Tried on ice the earthy tones get boosted, again spicy but unfortunately the "soap" is still present.
The perfect serve and best tonic for the U. Gin
To be honest with you my dear reader I did not really waste any tonic on this gin. A small bottle of Thomas Henry tonic water was the standard approach, but no more.
The tonic kills almost all of the gin except for the soapy flavour. It actually survives the bitterness and sweetness of the tonic. One could probably try an Elderflower tonic or something like that but I do not feel like trying this any further.
Summary
The U. Gin is blue. And I was not too hopeful when I saw this. Colouring is often a distraction or tries to bring more to the glass than there is in my opinion. This seems to be more than true with the U. Gin as well. Did they try to ride on the Bombay Sapphire look? Or even worse the London No.1 another of my not-so-favourite gins.