1868 is the year when the Hamburg-Bergedorf based and family-owned company started creating spirits and trading with wine. 150 years later the company still exists and is a place of vibrant spirit creation. Not just their own spirits get distilled in Bergedorf but they offer this service to others as well.
Back in December 1958 the von Haves created their very first gin. And this gin got recreated a few years ago under the name Prototype 2.0. This time around all the botanicals used were organic though which paired with an organic wheat distillate makes an all-organic gin (certified). The original gin recipe was used to recreate this product only to fine-tune it a bit more afterwards.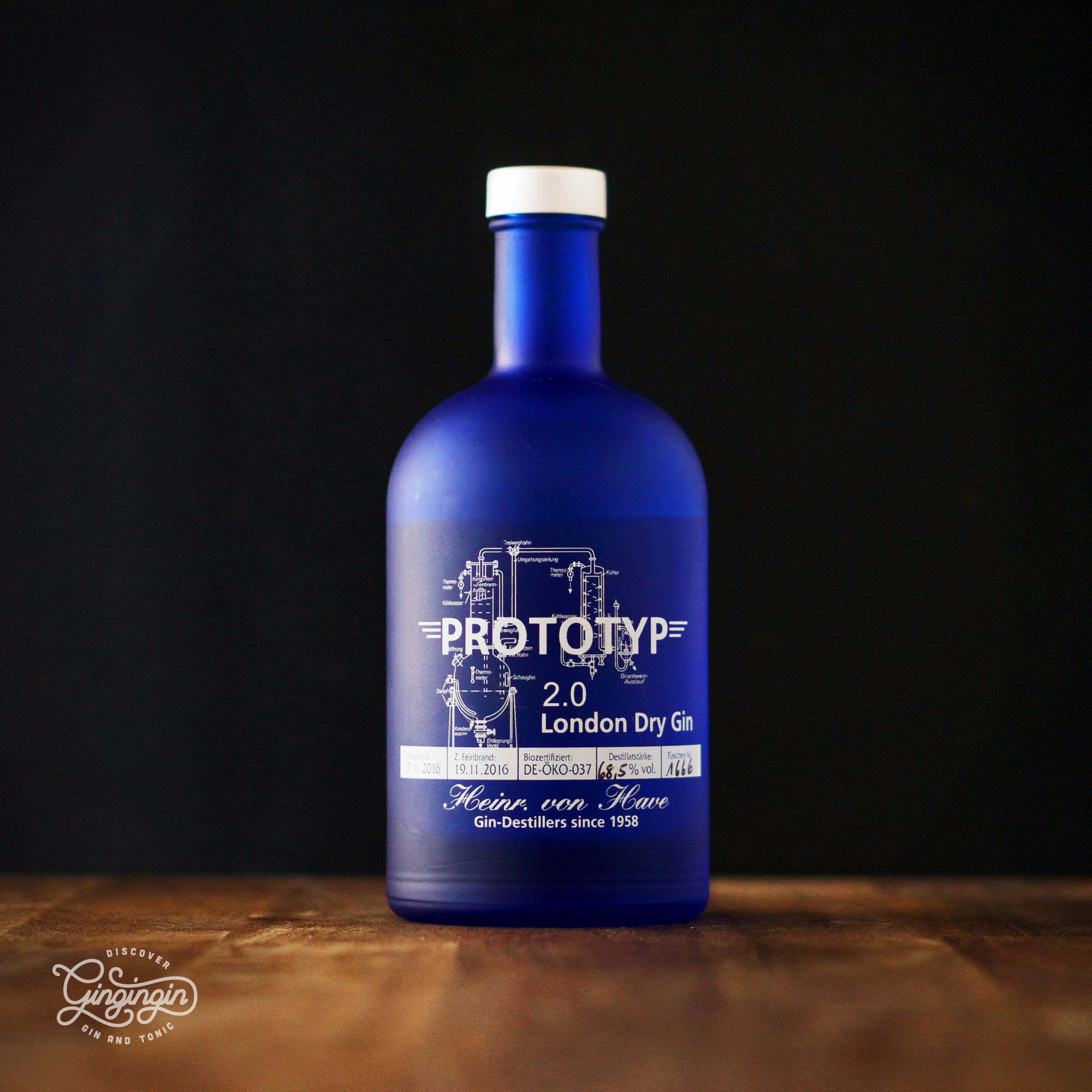 Botanicals
I assume the following are used as well:
cardamom seeds

citrus, i.e. lemon peel

ginger and / or pepper

lavender (just a guess but not very likely)
Tasting
Nose
This gin comes with a fresh, light nose. Citrus and cardamom as well as a faint pine touch from juniper start the experience. Despite 47.5 % ABV it is a smooth scent, the alcohol is not too dominant. It has a lemonesque touch, rather than oranges I would say. When you let the scents grow on you for a moment you get a hint of jam.
Palate
This gin starts with the citrus notes and juniper building up consistently. Spice kicks in and is almost peppery, with waves of cardamom carrying the whole bouncing back and forth with the citrus. When the spice transforms into sweetness after a while it does not kill the rest of the prior taste sensation, it rather is added to it. A slight hint of earthiness keeps the gin balanced and interesting. The aforementioned jam could be sensed again. Personally I sense a faint lavender hint as well. But it could be something else.
The mouthfeel changes from light and clear to rougher and spicy and back to a full texture. Although one could enjoy this one neat it is probably used best in a Gin & Tonic.
Aftertaste
A short to medium-long aftertaste with initial spice. Long smooth warmth and very little sharpness. The light, citrus taste and earthy notes still linger for a while.
On ice
Adding ice pushes the spice back into the aftertaste. It takes longer to develop and cannot be noticed that quickly. You get the less initial kick in the beginning but prolong the part where citrus opens the experience. The spice cannot be eliminated, it just holds back and comes back in full swing. Nice experience and probably what one can expect in the G&T as well to some extent.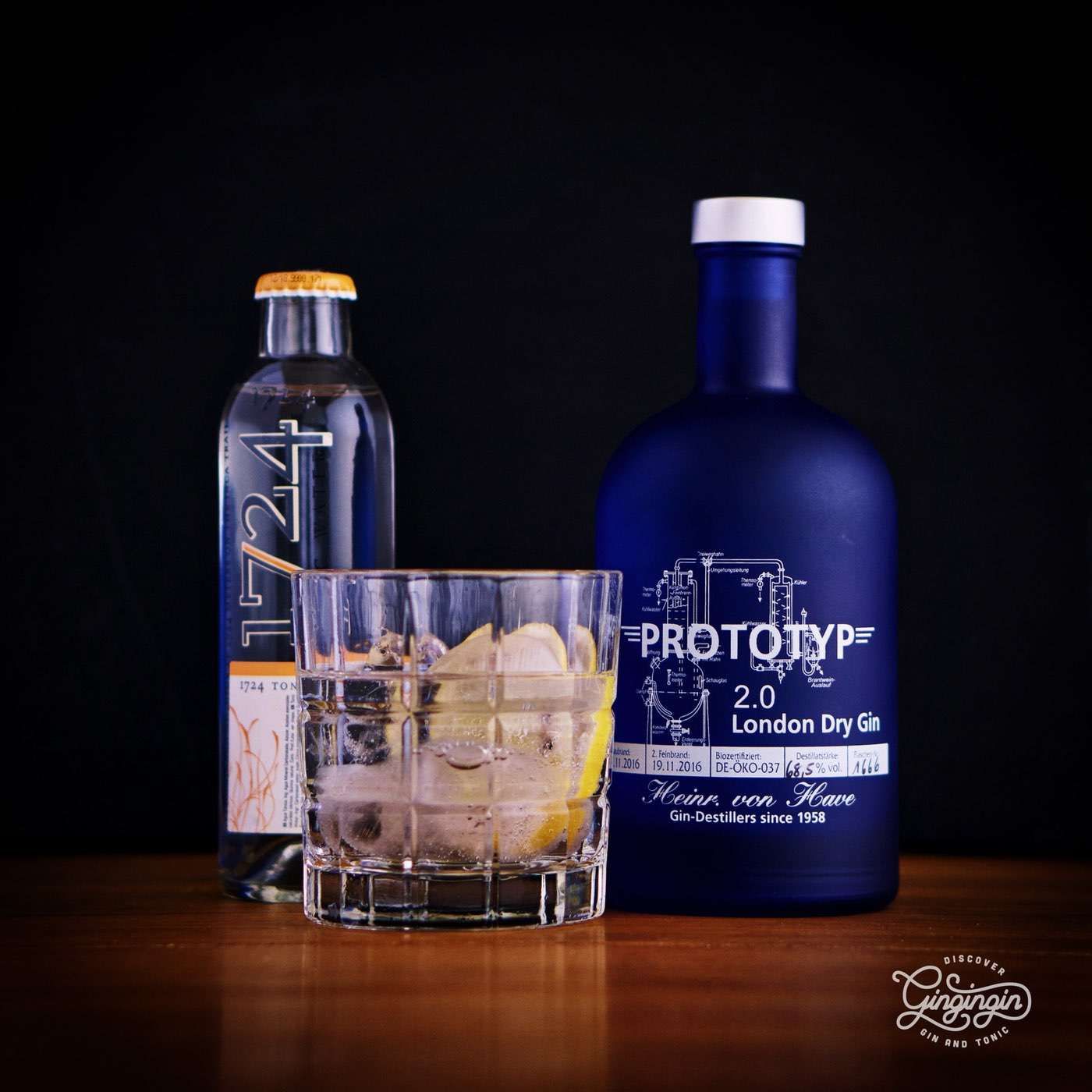 Prototyp 2.0 by von Have from Hamburg with 1724 tonic water
Perfect serve
This one needs to be tried with tonic water for sure. Come back for some more information soon.
Summary and GinGinGin rating
Over the years I have grown to like a gin neat as well. Some are actually almost to nice to be consumed with tonic. but it takes time to get to that point. Some people can barely grasp the fact that I might enjoy a gin neat. However, this one is made for mixing I would say. The profile is intense and screams for mixing. The aroma is dense and makes sense with a nice tonic.
For me a gin with a classic note is often the more convincing one over a fancy schmancy gin with added weird botanical or some super rare herb. The Prototyp 2.0 is a damn solid gin with a bit stonger taste than some might like. I enjoy the profile, but am not 100% happy with the spice: it is a bit too punchy. In a mixed drink this will go away I am sure. I might correct my rating after the tonic pairing but for now it is a rock-solid product.
The GinGinGin transparency declaration
This gin was a free sample by the producer in order for us to review the bottle. There are and were no obligations nor any edits of this content by the producers. Products tasted and reviewed by GinGinGin are all equally treated, paid for or free samples. If we like gins we buy them afterwards as well. If we do not like them you will read about it as well. When people ask if we would like to review a bottle, it is the first thing we mention to them that this does not guarantee a positive review. Get in touch to know more about reviews of gins. #Advertising / #Werbung