The first distiller's cut at GinGinGin. Obviously that needs a review. The Burgen 2018 version of the well-known Burgen Gin. But this one is a bit different. It does not pretend to be the completely overpriced collector's item. Quite the contrary. It is a bit cheaper than the regular version. What a nice move. If the regular gin is too pricey for someone this one could be a first contact.
A gin that is cheaper than its original despite being the distiller's cut is what we like. It is smooth and comes with 42% ABV and in the typical Burgen 0,5 l bottle. It can be ordered at their Webshop.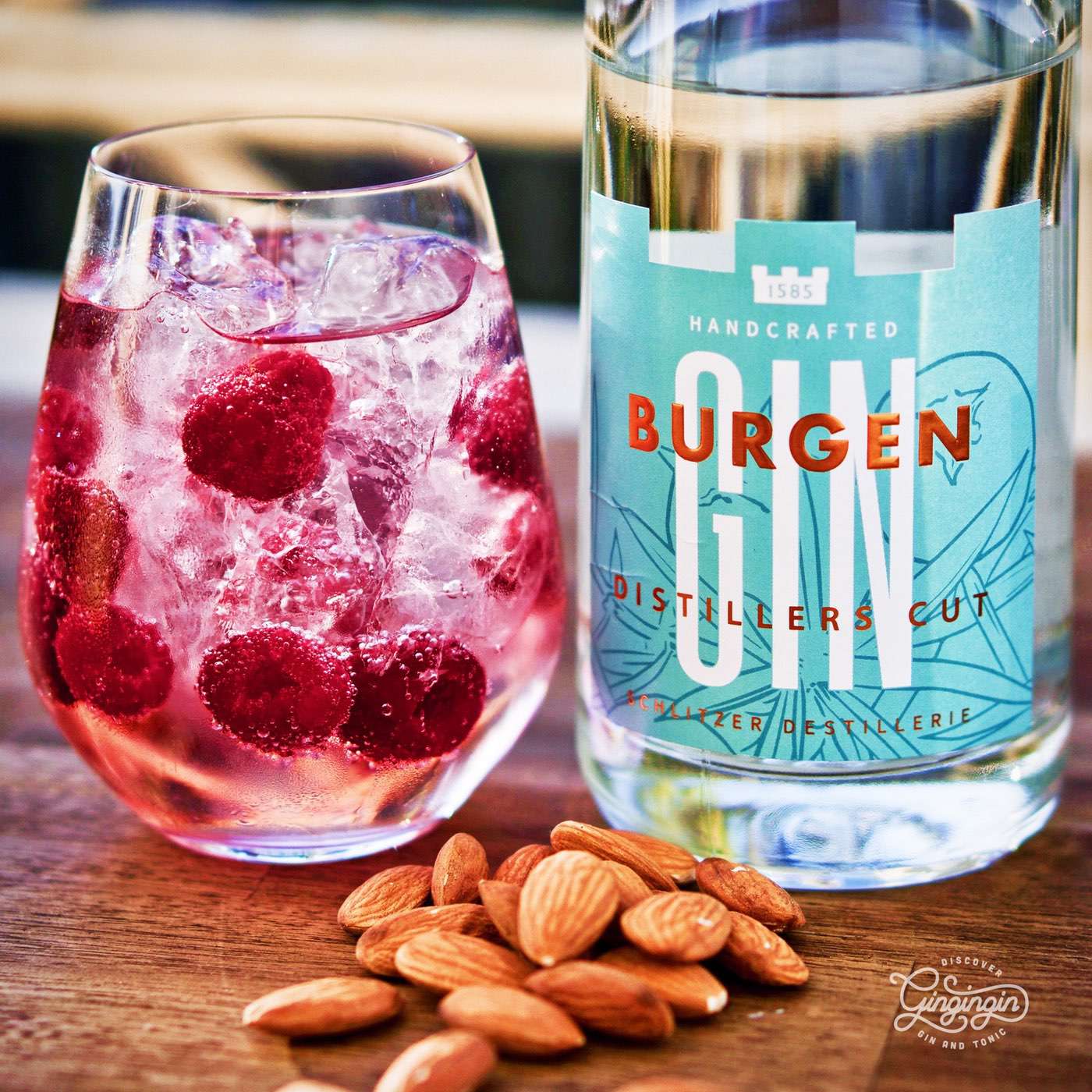 Botanicals
The botanicals known are:
juniper

raspberries

almonds
Trials with other botanicals were made of course but this combo (plus the botanicals we do not know anything about since Burgen Drinks keeps a bit quite about them) works quite well.
Tasting
Nose
Hello juniper, but a big hello to almonds! The raspberry is there but subtle. My hay fever is to be blamed I guess.
Palate
Tasted neat you get juniper and a bit of spice but hey do the almonds come to life. Over ice they come out even more. The hint of raspberry is probably a good counterpart without it something would be missing I guess. 

Perfect serve
The first serve with Fevertree tonic was great already. A nice almond touch and a nice summer touch to it. It reminds me of one of my favourite gins: Xoriguer Mahon gin from Menorca which features almonds as well.

The serve on the photo uses raspberries and we tried a dry tonic as well. The sugar levels the dry taste out. Works as well. Nice.
But the perfect serve? We are using the Three Cents Aegean Tonic for our perfect serve.What and amazing mixer. It brings out the raspberry in this gin and will be one of my new go to tonics to test a gin if possible. This is definitely the match you have to try!
Summary and GinGinGin rating
In summary a nice gin for summer drinks. I'll definitely serve a few more of these in the next weeks. Come over if you feel like trying it. Well done Burgen Drinks.