On Christmas Eve 2018 Jon Harper, originally from in New Zealand and now living in the UK, revealed his big secret. He had been building The Boutique Distillery over the last 12 months and was going to release his first craft gin.
A true Boutique Distillery gin indeed
When you hear boutique gin you might think of that crazy selection of flavoured gins from 'that boutique-you gin company' but that's not it. We are talking quite the opposite here: no frills, just gin, intense and bold but no gimmicks.
What is so boutique about it then? It is small, it is all hand crafted, not in that fashionable sense as many like to slam it on their bottle because it sounds good. Jon even built the still from scratch, which is quits unique in construction and lovingly named her "Ginavive".
Jon's background in aerospace engineering came in really handy and he prides himself on being the only distillery in the UK that builds their own one of a kind stills.
Moonshine and whisky from an early age on
Back in New Zealand an old Moonshiner in his village taught Jon how to make moonshine and whisky. That led to him making his first still at the age of 19 and so his first white whisky was made quite some 30 years ago. An important thing he learned back then was to make sure that only the very finest ingredients are ever used and this includes the water for as it will take the finished product to a whole new level. Up until today he makes sure the water is as good as one can possibly do. More about that later! The core thing that made Jon continue pursuing this passion for spirits was the fact that he found it fascinating to make something truly enjoyable using a fairly simple process, time, natural ingredients, and lots of experimentation.
History of the boutique distillery gin
In early 2000 when Jon came to the U.K he wanted to build a still and start producing whiskey. His girlfriend at the time told him that liquor production in the U.K was highly illegal and so that was as far as it went and he gave up on the idea.
Back in early 2017, Jon was at a conference in Budapest. On the first night of the conference there was a meet and great with beer flowing freely. Eventually Jon physically could not fit any more beer in, but the night was young. A girl standing next to him at the bar suggested that he try a G&T to which he declined due to remembering the flavours of the mass produced gins that he had tried some years ago and how they repulsed him. He was interested in that her drink contained cucumber and being a fan of cucumber, eventually took her up on her offer and had a sip. Well needless to say that gin was Hendricks and it was that moment that ignited the neurones and he felt the urge to look into creating authentic craft gin based on his original whiskey recipe. Jon then spent the next year forming his company, building his first copper still in 25 years, experimenting with botanicals, still configurations and how they effect flavour and most importantly getting everything above board and legal.
The heart of the production: Ginavive
The heart of the distillery is a self-made pot still named Ginavive. It is a 50 litre boiler and produces the high proof gin. He runs this on renewable power from wind and solar energy to make sure he does the best job for the environment and reduces his carbon footprint.
During our interview Jon was so kind to do an unboxing with me, because a courier had just dropped off new parts for the upgrading of the still. You could sense the excitement as Jon geeked out on the new upgrade components for Ginavive. I felt so honoured to be included in this and must say that this is exactly why I started putting the work into GinGinGin: When you put in the time to talk to the makers, you get to see and hear the real stories, the stuff that drives them, the passion and energy. Unlike so many pure-label- marketing products, Jon makes something because he just has to. That explains why he did not even leave the making of the still to someone else because he knew how to build it himself. He is a real "Craft Distiller" in the true sense and this love and passion carries over into his product.
The 50 litre still is loaded with approximately 40 litres, 20 of those 94 % ABV grain spirit from the UK and that yields 20 to 23 litres of 74—82 % ABV spirit which when diluted to drinking level results in some 80 bottles of 0,5 litres. The distillery operates with true small batch pedigree with around 80 bottles in a batch. If required they can output 160 bottles of fine Cotswold Dry Gin each week. Currently his main job is a photographer and spends a great deal of time travelling to document weddings. Between assignments he has time to embrace his passion and head out to the barn to make his gin. At this stage the still site and distillery is at an undisclosed location but he plans to move to a little larger premises as he grows so that he can have a proper Gin School where enthusiasts can learn about still making and spirit production. He would also love to have a really great cafe on site as he is also a total foodie and coffee head.
Botanicals in the boutique distillery gin
Croatia is where Jon gets his juniper from, not just because that's where one can buy it but because he knows the producers from time spent there on vacation. Provenance of ingredients is at the forefront of Jons mind and he loves to work with fellow small growers, foragers and producers to guarantee the pedigree of his spirits. The lavender is from the garden of his place and is an old English strain with large oil rich flowers, and I guess that needs to be increased when the gin is made in higher quantities as well.
Now although it's not a botanical, but as important as mentioned before, is the water. Jon had tried water from Scotland, Yorkshire and Wales all of which were very good and then he discovered there was a spring in the nearby hills, the water was amazing in taste and purity. In-fact, it is the only water the Queen of England takes with her whiskey, so if it's good enough for her, it's good enough for his Gin.
Juniper

Cardamom

Coriander seeds

Cassia

Chamomile

Lavender

Fijoa

Fennel

Pink hibiscus

… and a few other bits and pieces
Taste of the boutique distillery gin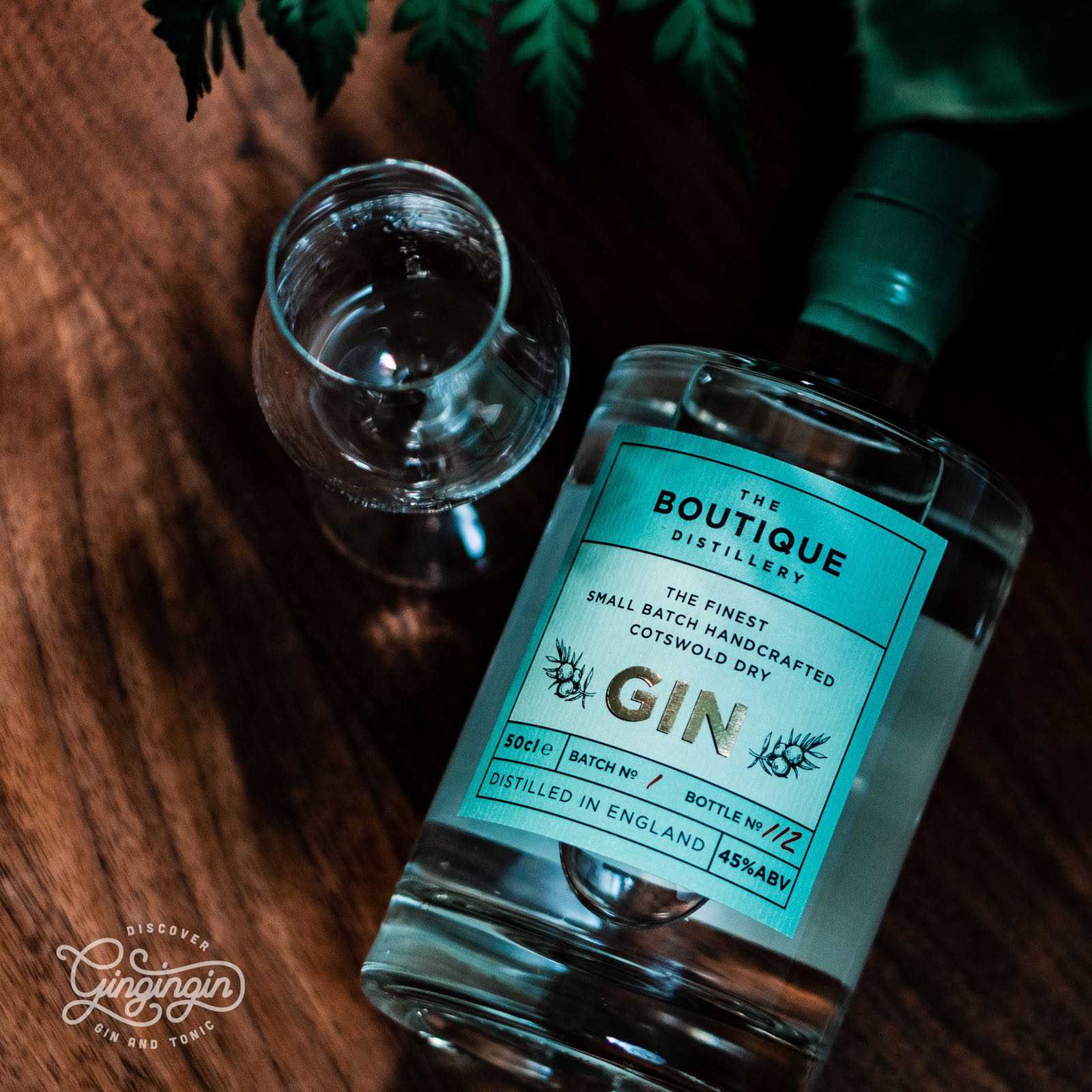 Nose
The moment you fill the tasting glass an exotic mix of scents rises from the glass. Freshness, and depth play catch. Piney juniper and fresh citrus dance around a heavy Coriander and Cardamom base. After the first scent has impressed me I got used to the intensity and could sense some more floral tones as well.
Tasted neat and with ice
Big, bold, beautiful … there is your TLDR; The gin starts with a fresh and juniperesque spice, quickly gets some sweet fruit and that is followed by a full-blown exotic aroma like from a kitchen in the Oriental or Indian neck of the woods. A rich and multi-layered taste profile I absolutely dig. Ice brings some of the more delicate tones out as well. The lavender came a bit more to the foreground for me with ice.
Palate and aftertaste
Despite the intense aroma it is a light and refreshing character. Palate-wise the gin is intense and goes through a few different stages from a 'bang, here I am' to a 'sit down and get comfortable, I have lots to show you', never in an obnoxious fashion though. In case you enjoy these intense gins, this one is for you. If I had to point you to a more commonly known gin, I would say, think Opihr Gin, but a lot more sophisticated.
The perfect serve: Which tonic with the boutique distillery gin?
Matching a gin to the right tonic can be quite a challenge given the many possible combinations. The bold nature of the gin makes it definitely stand out.
Stand by for an update to this post after the tonic pairing session.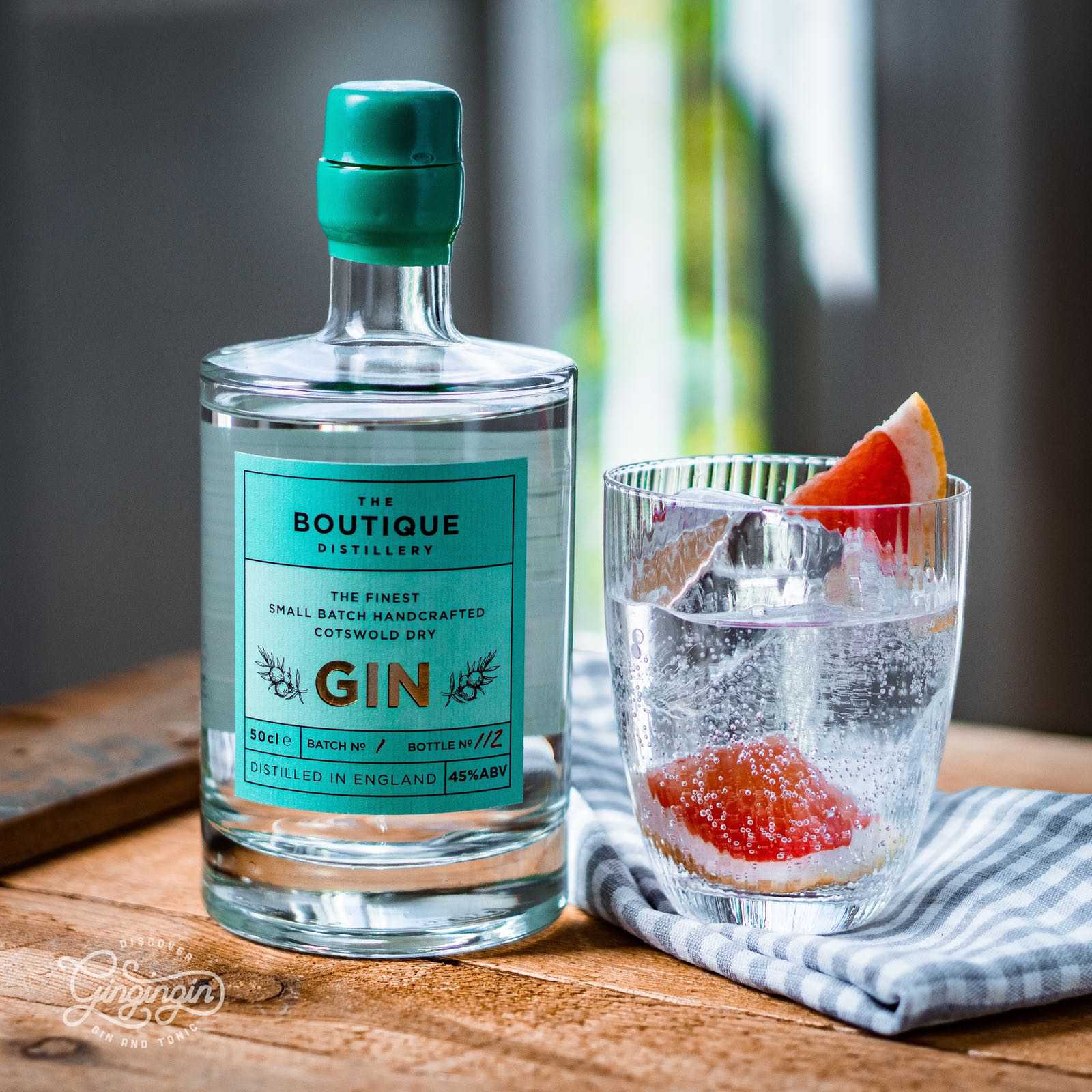 Super tasty: The Boutique Distillery Gin with fresh blood orange wedges, tonic and clear ice
Jon's Perfect Serve
Now Jon himself loves bold flavours and thinks that there are too many gins that get lost in the tonic as lots of distilleries cut back on ingredients to save money. This is highly annoying especially when you have paid good money for a G&T in a bar. He wanted to develop a gin that was smooth with no burn when taken neat with a cube of ice as well as being bold enough for a single serve to stand up to any tonic that was thrown at it. As a result he packs the still and infuser with over 10 times what would usually be required to make a standard gin. This is how Jon takes his fine Cotswold Dry Gin:
Ice into a chilled glass

25ml of Boutique Distilleries fine Cotswold Dry Gin

75ml Mediterranean tonic water

Wedge of Red Grapefruit wiped around the lip of the glass and dropped in.

Nice sprig of fresh garden rosemary to stir.
Feel free to substitute the Red Grapefruit and Rosemary for a long shave of cucumber and blueberries.
Summary of the boutique distillery gin
Go bold or go home that is what the motto of this gin could be. It is a strong flavour experience, the intensity is something I love and it even prevails when the tonic to gin ratio gets high where other Gins are completely lost in the mixer. The gin will not be exactly the same from batch to batch as Jon told me. He is still giving little tweaks to the recipe here and there. You won't get an entirely different gin but certainly there might be lovely well thought out nuances. That is fine with me and makes for an exciting surprise knowing the background of the gin and how it is being produced.
I like a strong tasting gin, it is smooth, deep and has more than a superficial taste layer. Because it it true small batch craft gin, it is not available all over the place obviously, it is worth going the extra mile and ordering it. Well done Jon!